Just "Sew" You Know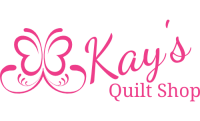 Kay's Quilt Shop, "Just "Sew" You Know" Newsletter, November 2017
After two weeks of opening our store we want to thank everyone for their support and encouragement. We are truly blessed, Thank you.
We are finally getting things settled and want to share what's new......Just "Sew" You Know.
We will be closed for Thanksgiving on Wednesday and Thursday the 22nd and 23rd. Happy Thanksgiving to all.
Classes have been added to our website. We have Mo Bonner teaching the Westalee Rulers and beginning quilt class. Debbi Plaisance has several bag classes and a quilt class that is intriguing. Caryn Contino has a bag class that will be fun just gathering the supplies. You'll have to check out the classes on our website. In addition, Kay Harper will have a placemat class among others.
Our website is fully functional and we have free domestic shipping on all fabric. www.kaysquiltshop.com
We have a special on our Gift Cards, purchase a card for $100.00 and receive a $110.00 value on the card. They make the perfect holiday gift!
Last we have "Sew It's Monday. This is an all day gathering time to sew by machine or by hand, chat and learn every Monday. Hope to see you then.
Kay & Scott
3220 Forum Blvd. Unit 101
Fort Myers, Florida 33905
239-337-KAYS (5297)