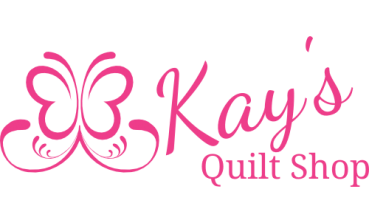 February 22, 2019 Newsletter
Sew, What's New?
As many of you may have heard, I spent yesterday in the ER. My hemoglobin count was way too low. After two blood transfusions, I am back on my feet. Also very grateful for the prayers and good wishes, but especially for the generous folks who donated blood that has me back on my feet! So please, if you can donate, please do. It is truly life saving!
So, lets move on to more exciting things going on at Kay's...
The 2019 Block of the Month has started. We still have a few spaces left and you are still on schedule with the rest of the group. This is only for 7 months($29.93 per month) and the colors are wonderful with a soft gray background. So give us a quick call to sign up for this 90"x90" quilt with binding.
In March we will be starting a Table Runner of the Month Club. The kit you will get in March is a table runner for May, so you can easily get this project done in time to use it during the month it was designed for. Cost is $39.93 per month. This is also a great gift idea. Get the kit each month and then you can gift them!
What do you think of a "Pamper Kamp"? We are planning a quilting/pampering retreat in July. This will be held just 5 minutes from the shop. We will start with a pizza and salad party on Thursday, July 25 then fill our time with some fun projects, good food, pampering, games and laughs. We will conclude this great get-away on Saturday, July 27 at 3PM. We have also scheduled a massage therapist to offer chair massages at just $1.00 per minute in either 10 min. or 15 min. increments. Cost for this is only $289.00 per person, double occupancy. We are starting to take deposits on this now. So call your friends so you can both enjoy this special time.
On Thursday, February 28, we are excited to have Mary Zesiger with us to give a lecture/workshop titled "Lovely Labels". We should all label all of our quilts and we know that, however, how many of us truly do? Hear what Mary has to say and so we can carry on the legacy of the quilting we all love so much. Mary is a National Quilt Judge and is very knowledgeable and gives you so much information. Please call or register online. Cost is only $10.00.
For additional classes and events and to purchase any in stock fabric, please check our website.
Follow us on Facebook and Instagram to see the latest in fabrics as they come in.
As always, we are so blessed to be able to call you friends. Thank you for your support.
Kay and Scott