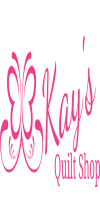 Can you believe it?
On Saturday night, I heard the storm we had at our house and thought, "Oh yes, it is still April Showers, well now it is time for Mary Flowers. And May Day is all about flowers and little treats! I really think we should celebrate May Day every year. (I guess I better put that in my calendar in April of 2024 so I can remember.)

We were busy with the All Florida Shop Hop. It was lots of fun for us as well as the many Shop Hoppers we had in. We are looking forward to next year and hope that if you were not able to join the fun, that your schedule will allow you to next year.
I do have lots of Stockings for the troops already cut and ready to be sewn. My goal is to try and get 1,000 done through out the year, not last minute like last year, so we are cutting and sewing a little bit each month. I currently have many more kits than assembled stockings, so do stop in to pick up a few. They are easy. So easy that even Franklin was able to do few when they were here.

A week or so ago, we got in some pickleball fabric! What cute little project will you come up with?

Tom's Shirt class was so popular, we are repeating it. It starts
May 10 and runs for three weeks, with a little homework in between! The ladies who took the last class were really pleased with their completed shirts, and so were the men they made them for.


Lilly will be teaching a technique class for crumb piecing. You know using all those small little pieces, you just don't have the heart to toss! Finally, a great use for them. This is going to be held on Saturday, May 6. This will be a fun class and will really shrink your scraps!
May is Foster Child Month. We are still collecting quilts, small, new stuffed animals and just starting...bags for foster children to carry their belongings from home to home. We have already started our collection and have a few different patterns to make duffle bags, so stop by and check them out. The bags we do have turned in are so cute and the amazing thing is that everyone who has turned one in has used stash!
We are currently working on a number of store samples and I am hoping that we can get them hung in the next week. I will keep you posted so you can stop by and check them out. They will all have kits cut for them, so some really quick projects.
Thank you for your friendship and support.

Kay and Scott

10676 Colonial Blvd. Unit 40
Fort Myers, FL. 33913
239-337-5297