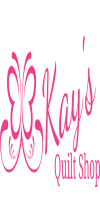 I sure hope your Mother's Day was as great as mine. Franklin sent me a very nice card, and inside he had sent me a little pink button! If you have a Grammy that loves both pink and buttons, there is no better gift! So now my thinking cap is on to come up with a great project for that beautiful button.
Are you ready for a challenge? We have an assortment of panels for you to choose from for this challenge. Pick up a panel for only $5.00 each., while supplies last. (Cash only) Then create something.... I have a mixture of Halloween, Christmas, Tropical and general panels. The panels are ready to be picked up starting tomorrow, Your completed project (quilt, bag, clothing, tea cozy, think outside the box) needs to be turned in no later than Friday, June 30. We will have voting during the entire month of July. The winner will get a fun prize. Stop by soon for best selection and to get those creative juices flowing.
We are so excited to be offering Sassy Sunflower fabric kits and patterns. Throw sized quilts and a tote bag made with 5 different 1/2 yard cuts of coordinating fabrics. We have samples of each pattern and they are easy and fun to make. Stop by the shop to check out these fun patterns for quick projects.
We recieved some great new fabrics. Lots of batiks, some Hanukkah and my favorite, a black background with little white flamingos.
Now, for some basic house keeping news. We will be closed Saturday, Sunday and Monday, May 27, 28 and 29 for Memorial Week-end.
We will be closed on Mondays during the months of June, July and August. We will be open on Mondays starting on September 11.
Thank you for your friendship and support.

Kay and Scott

10676 Colonial Blvd. Unit 40
Fort Myers, FL. 33913
239-337-5297