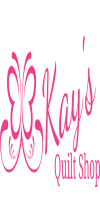 July is Here!
I hope you have had a wonderful USA Birthday. We have had a quiet and restful day. I have a nice homemade meal in the oven and brownies are cooling on the counter, a great dinner tonight and leftovers for tomorrow! A win-win in my opinion.
Now is the time to seriously start thinking about holiday time. I know that it is still almost 6 months away, but we all tend to bite off more than we can chew at the end of the year. Get those quilt tops made, bring them into Scott and he will get them back to you quickly, allowing you plenty of time to bind them. The quilt shows will be here shortly after that!
I did have a number of panels purchased last month and have only gotten a few turned in for voting. I will still be able to hang more, but get them in soon so you don't miss out on votes! The ones that have been turned in are wonderful, so do stop by the shop to vote.
I have gotten in more of the Retreat Bag frames. Caryn has taught that class numerous times and everyone has been more than thrilled. It is a free download pattern. I also picked up a few of the frames with the gear to make this bag into a backpack! At this point there are only a few of the backpack kits in stock.
On Saturday, July 29 we will be having a Christmas in July pillow class. This pillow is a reversible pillow with a tie. It can be made in Christmas fabrics or any selection of two coordinating yet contrasting fabrics. I have samples in both Christmas and Halloween fabrics. You will leave with a completed project. Cost is just $25. plus materials.
Susie is studying to be a Judy Niemeyer Certified Instructor. She is able to teach some classes and we have Poinsettia scheduled for Tuesday, September 26 and October 3. There will be some homework both before class and between the classes. This project is lovely and is great in any color combination.
We are about half way to our goal of stockings for the military this year. I am so exicited that we will not be trying to get them all done in two weeks in October like last year. We do have kits in the shop if you are looking for a quick, feel good project.
We now have all of the Sassy Sunflower Quilt pattern samples hanging in the shop. These packs are quick and fun to
complete. Each pack contains five half yard cuts of fabric and is enough to make an entire quilt top or the Tippy Tote! Your choice of one original Sassy Sunflower pattern is included with each half-pack purchase.
We will be offering "Quick Strip" as a beginning quilting class, and you will leave with a completed top. This class will be held on Saturday, August 12. Cost is just $30 plus the cost of one Sassy Sunflower pack.
Thank you for your friendship and support.

Kay and Scott

10676 Colonial Blvd. Unit 40
Fort Myers, FL. 33913
239-337-5297