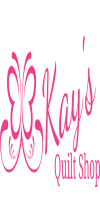 Sew It's Monday
What did you do on your summer vacation? I got to spend two weeks in Ohio with Michele and Franklin. I had one suitcase filled with fabric for Michele and one with clothes. We were able to make a few shop samples, two quilts for foster children and projects Michele needed to complete. We took a mystery tour(Hop in the car and take off for the day!), seeing Franklin on his first day of middle school and a chance to go flying and celebrate me birthday! It was a great time.
A big reminder that "Sew It's Monday " starts tomorrow. Yes we will be open on Mondays once again, starting tomorrow. Scott totally re-arranged the class room, so there is a lot of great room to work in. Hope to have a full classroom tomorrow.
Stay turned for more news at Kay's.
Thank you for your friendship and support.

Kay and Scott

10676 Colonial Blvd. Unit 40
Fort Myers, FL. 33913
239-337-5297