Skip Navigation
Website Accessibility
Friends, Fabric and Fun!
Where your quilt dreams come true.
Mid-October 2023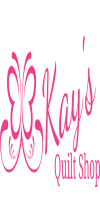 Mid - October 2023
I have lots to share with you for the upcoming months, so hang onto your hats and lets get this started...
First lets get started with some family updates.
Franklin is doing very well in his first year in middle school, some new adjustments like homework everynight, but he is really loving it. Well, maybe not loving it, but enjoying it.
Michele, is loving the the role of motherhood and Franklin's enjoyment of fishing, flying and Legos!
Scott got a great check-up and his doctor is very pleased with his health. Win!!!
I am happy and healthy! Life is good!
Scott and I are going to Houston for Quilt Market on Friday, October 27 through Monday October 30. We are so excited since last year did not work out due to Ian blowing by. We will be closing at 4P.M. on Thursday, October 26 because our flight is an early one. The shop will be open during this time and the girls have a few tricks and treats up their sleeves, or so they have told me, so keep up with these on Facebook!
Friday, Saturday and Monday.
We have posted new classes on our website.
Beginning Quilting - Square Affair
Poinsettia Pillow Class
Four Corner Apron
Judy UFO Class
Our plans for Thanksgiving are to be closed on Wednesday and Thursday, November 22 and 23. Plan on coming in on Friday, November 24 to see some exciting things from Quilt Market and to celebrate our 6th anniversary! We will have specials and treats.
Some of you have seen my latest obsession with log cabin blocks. I am thinking of starting a log cabin club. There are so many fun ways to lay out these quilts. This will be a monthly get together. Let me know if daytime or evening works for you.
Caryn is back in town and has a number of bags she wants to teach. You know what a bag lady she is, so stay tuned for more on that coming soon!
We will once again be closed between Christmas and New Years. Closing Thursday, December 21 at 4PM and reopening Tuesday, January 2 at 10A.M.
Scott is getting some quilts in that people are wanting for the holiday season. We have seen some really beautiful holiday quilts. We are currently about two weeks out, but as the season approaches, we anticipate that time will be longer.
Thank you for your friendship and support.

Kay and Scott

10676 Colonial Blvd. Unit 40
Fort Myers, FL. 33913
239-337-5297